Solutions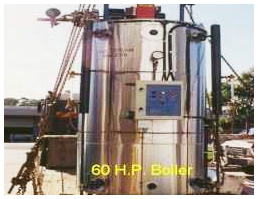 PROBLEM: - ANALYSE BOILER PLANT EFFICIENCIES
SOLUTION:- UTILIZE EXCESS STEAM TO MANUFACTURE ELECTRICITY VIA CO-GENERATION

PROBLEM: - DRY CLEANING INDUSTRY BOILERS WERE INEFFICIENT, UNRELIABLE AND COSTLY TO OPERATE.
SOLUTION: - DESIGN NEW BOILER TYPE WITH IMPROVED RELIABILITY AND EFFICIENCY OF 84%. COSTS WERE REDUCED BY 40%.

PROBLEM: - COMPANY & PERSONNEL NOT CERTIFIED TO RECENT UPGRADE IN AS 4181
SOLUTION: - PROVIDE TRAINING, DEVELOP AND DOCUMENT WELD PROCEDURES AND CERTIFY STAFF AND COMPANY TO AS 4181 AND AS 1554.6

PROBLEM: - MANUFACTURED METAL PRODUCTS WERE SUBJECT TO FAILURE FROM CRACKING.
SOLUTION: - DEVELOP MANUFACTURING PROCESS AND PLANT TO ELIMINATE COMPONENT FAILURES FROM HYDROGEN EMBRITTLEMENT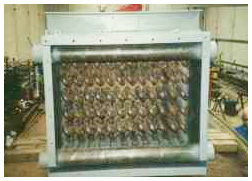 PROBLEM: - LARGE KILN DOORS JAMMING FROM THERMAL EXPANSION AND DISTORTION
SOLUTION: - DESIGN NEW DOORS TO ACCOMADATE THERMAL PROPERTIES OF BRICK MANUFACTURE TO RESIST SCALING AND DISTORTION.

PROBLEM: - CRACKING OF WELDS IN MANUFACTURED ITEMS FROM 1045 STEEL
SOLUTION: - REDEVELOP WELD PROCEDURES TO IMPLEMENT AUTOMATION AND TRAIN PERSONNEL AND MANAGEMENT

PROBLEM: - IMPORT SUPPLY OF COMPONENTS UNRELIABLE.
SOLUTION: - SOURCE AUSTRALIAN SUPPLIER WITH EQUIVALENT QUALITY & PRICE

PROBLEM: - LARGE STRUCTURAL STEEL MEMBERS SUFFERING FROM FATIGUE CRACKING
SOLUTION: - DEVELOP REPAIR WELD PROCEDURE AND NDT INSPECTION PROGRAM.